Share
Spotlight Member of the Month: 'Ōlena by Chef Ron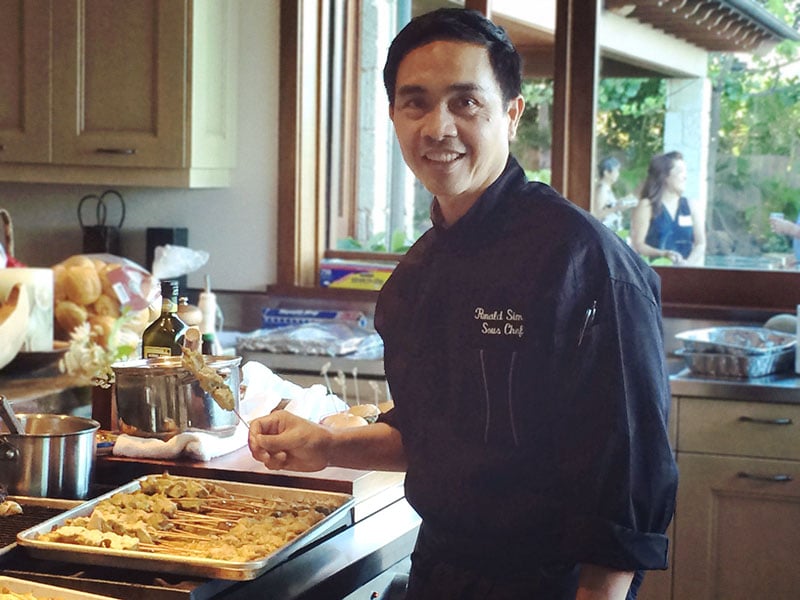 Founding Year: 2017
Dole Cannery Food Court
650 Iwilei Rd #135
Honolulu, HI 96817
Website
This month we're spotlighting ʻOlena by Chef Ron. Known for its "grab-n-go gourmet" menu and clean, quality ingredients, 'Ōlena by Chef Ron Simon is a local restaurant & caterer in Iwilei that serves a fusion of American, Asian, Hawaiian and Mediterranean dishes.
We asked the owners to provide us some information about what makes their business unique!
How did the business get started?
Living in Hawaii, we could never seem to find an eatery that was between fine dining and fast food. It was either too expensive to eat clean at a fine dining restaurant on a regular basis or settle for more affordable price point for a family of four which is usually saltier and sweeter foods that leaves us bloated, parched, and/or regretful. We were looking for a happy medium, a win/win between our new venture and our community.
Therefore, we thought about creating a fine dining casual concept where the general mass could enjoy slow cooked quality foods, without the high price tag. To do this, we needed to decrease overhead on rent and prime location, and invest more on a clean and functioning kitchen with fresh and pure ingredients prepared by a professional chef and baker (Chef Ron).
.
What are the main services you provide to your customers?
Our top sellers are out banana poi breads and red wine beef stew. These core dishes highlight our slow cooking and baking fusion of American, Asian, Hawaiian and Mediterranean concepts that customers find comforting, wholesome, and made with aloha.
What is an interesting fact about your business?
Chef loves cooking and baking, and Rose loves socializing. It's a combustion of memorable food and a warm-hearted experience at 'Ōlena's that keeps customers coming back and telling friends.
What is one thing your business is known for?
The main thing our business is known for is building relationships and nourishing your heart and soul. Whether just checking us out, getting a bite to eat or grabbing dessert, you'll always leave feeling better than when you came.
What was a major hurdle you had to overcome and how you were able to achieve this?
The small boutique food business is challenging as it is saturated, competitive, labor intensive and a low profit margin industry. Having to uproot and move locations, from JABSOM, to Republican Street, and now to our current Dole Cannery location, has been mentally, physically and financially challenging at times.
The one blessing is knowing who your true friends and supporters are during the low and hard times. What keeps our passion going is our foodies and repeat customers who have returned again and again to support us and value what we do with their patience and hard-earned dollars.
Honestly, it has been an uphill battle to restart after a nine months hiatus. We were not certain given the current inflation, economic uncertainties and high food costs if we should continue with our passion. Thanks to God, our community, and Central Pacific Bank, we are able to make a comeback to pursue our dreams to make a difference.
When we were at a crossroad, CPB supported us way beyond our expectations. The Bank helped us throughout the PPP application process and when we were looking for a new kitchen. CPB treated us like a VIP million-dollar company, even though we are just a small business. They provided us with the utmost care and attention. CPB gave us the strength and hope to thrive in this tough business. We are so grateful and now driven to succeed for our community, supporters and ourselves.

Information provided by: Ron Simon, Chef/Owner of 'Ōlena by Chef Ron Simon
About the Spotlight Member of the Month
As part of our contest for a HI Now segment on Hawaii News Now, we asked Rising Tide members to provide information highlighting their unique businesses. While only one winner could be featured in the spot, we wanted to highlight some of the other unique businesses that submitted. This started the Spotlight Member of the Month feature, a monthly highlight of small businesses from across the islands.