Share
Spotlight Member of the Month: Popoki + Tea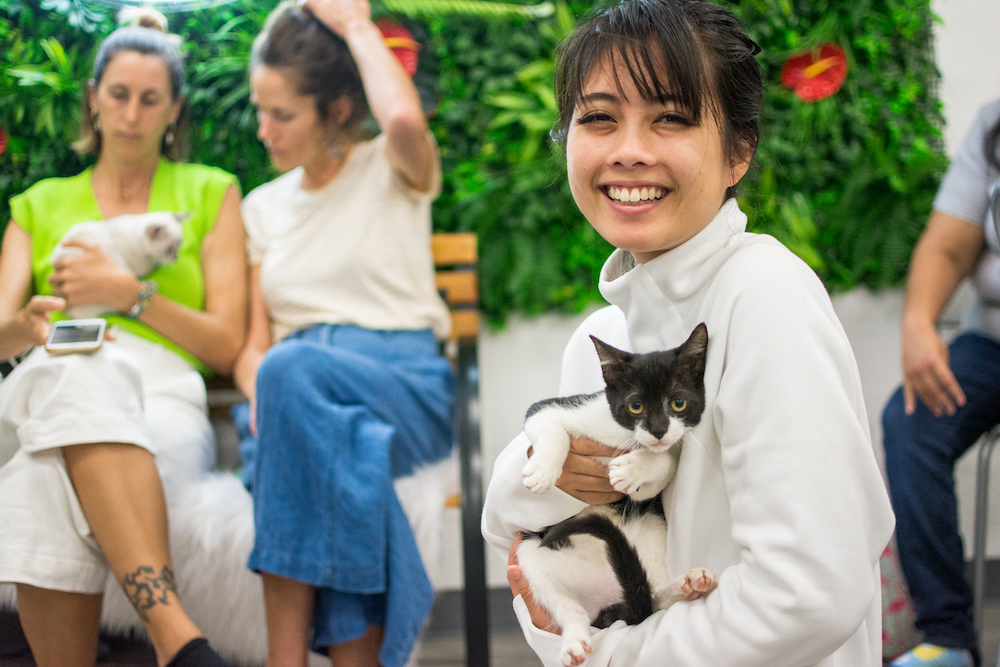 Founding Year: 2018
This month, we're happy to spotlight Popoki + Tea!
Popoki + Tea is a cat café located in Kaimuki with the mission of providing their cats and guests a peaceful environment where they can find each other, whether for a moment or for a lifetime.
We recently asked Liberty Peralta, founder of Popoki + Tea, a few questions to find out what makes her business unique.
How did the business get started?
Growing up on farmland in Waianae on Oahu's Leeward Coast, I was always around all sorts of animals…except cats. My dad always claimed he was allergic. Turned out, he just didn't like them.
In adulthood, I moved to town (Honolulu) to be closer to work, but away from the company of animals. I briefly worked at a startup, and one day before a meeting, my manager talked about an East Coast cat café that he had supported through Kickstarter.
A cat cafe? I thought that was wild.
A small-but-life-changing volunteer service project introduced me to a cat's affection. A few months later, I welcomed home my first cat, Mara. Through Popoki + Tea, I hope to introduce many more to that same affection I felt that day as a volunteer and have continued to feel every day Mara has been in my life.
I've always had a thing about challenging stereotypes, which I trace back to my childhood in Waianae – a troubled place, sure, but one that also holds its values close, and introduced me to so much opportunity as a young creative.
Cats have their fair share of stereotypes. How many cartoons have a cat as the bad guy? Cats are often characterized by their aloofness and their self-sufficiency, but it doesn't make them any less capable of affection or deserving of love and care. Come visit us… you'll see.
Oh yeah, and my dad? He fell hard for Mara and now has a cat of his own!
What are the main services you provide to your customers?
Providing experiences for cats and people to connect and create memories. We also make our own bottled tea off-site and sell it in our shop!
What is an interesting fact about your business?
Popoki + Tea started as a monthly cat café pop-up at The Public Pet in Kaimuki to test the waters and build a community before opening a permanent location. As fate would have it, we ended up opening up shop right next door to where we were doing our pop-ups!
What is one thing your business is known for?
The easy answer would be "cats," but specifically, we go above and beyond to create positive experiences for our guests and adopters. This ethos permeates through everything we do, from our cleaning regimen, to our guest operating procedures, to our adoption process.
Please share a story about a major hurdle you had to overcome and how you were able to achieve this.
Surviving and thriving during the pandemic. We opened in February 2020, a month before the first lockdown, and closed for three months before opening again in June 2020. Since adoptions are an essential part of our business, we continued finding homes for our cats during our closure through private adoption appointments. We are still in touch with many of our adopters, who love to share photos and updates with us. Our extended family means so much to us!
What's the biggest risk your business ever took?
Making the jump from pop-up to a brick-and-mortar location was the biggest risk I took. I contributed my personal savings and took on several business loans to cover the down payment and rent until we could open, as well as costs for renovations and goods. The result? A thriving business that our guests have come to rely upon for quality time with our cats.
Any advice you'd like to give to someone who's thinking about becoming a business owner?
Be ready to endure the biggest emotional and mental rollercoaster you will ever experience. Really make sure your business idea isn't just viable, but something you will see through thick and thin, as well.
Information provided by: Liberty Peralta, Founder/Owner of Popoki + Tea
Photo by: Reese Kato
About the Spotlight Member of the Month
As part of our contest for a HI Now segment on Hawaii News Now, we asked Rising Tide members to provide information highlighting their unique businesses. While only one winner could be featured in the spot, we wanted to highlight some of the other unique businesses that submitted. This started the Spotlight Member of the Month feature, a monthly highlight of small businesses from across the islands.